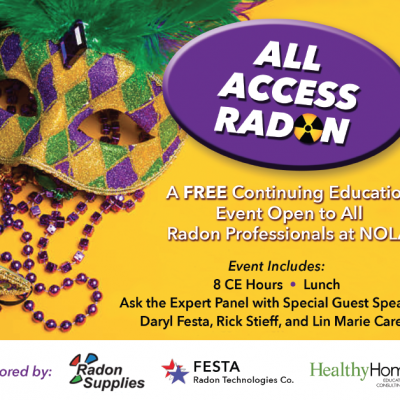 NOLA Radon 301: Radon Mastery
$0.00
  ALL ACCESS RADON 

Master the Science of Radon Measurement & Mitigation
An intensive review of radon entry & behavior in indoor air and the factors that affect the ability to measure and mitigate radon.
Measurement-specific and mitigation-specific break-out sessions lead by industry Masters with a focus on key applications and disciplines that set apart the masters from the novices.
Mitigation break out session will feature a Vapor Intrusion segment by V.I. expert Tom Hatton of Clean Vapor LLC
Ask the Expert panel to gain valuable insight from the veterans and experts.

Daryl Festa, Festa Technologies Co.
Rick Stieff, Rad Elec Inc.
Tom Hatton, Clean Vapor, LLC
Lin Marie Carey, Healthy Homes Training
See Agenda in box below for more details and registration information.


All Radon Professionals are Welcome!
Description
ALL ACCESS RADON
Where All Radon Professionals are Welcome!

This 8-hour course is designed to help radon professionals master the science of radon measurement and mitigation.
What: Radon 301: Radon Mastery
When: Pre-Symposium – Saturday, September 30, 2017
Time: 9:00am – 5:00pm
Cost: FREE for Symposium Attendees. $50 for non-attendees.
Includes: Lunch, Expert Panel, Course with 8 CE Hours [NRPP, IL, NJ]
Location: Jackson Suite – Hilton Riverside, New Orleans
RSVP is required to ensure adequate food and seating!
Your ALL ACCESS RADON is sponsored by: