Two designs may be used for passive pipe installation
Sub-Slab

Depressurization

(SSD)
Sub-Membrane Depressurization (SMD)
Vent Pipe Installation (should look almost identical to an active system)
Main run of vent pipe (from primary suction point to exhaust)

Minimum 3-inch in diameter
Exteriorly 3-inch by 4-inch metal downspout may be used

Vent pipe and fittings

Schedule 40 PVC
Properly joined, sealed, and air tight
Supported every 6 feet on horizontal runs
Supported every 8 feet on vertical runs that do not penetrate floors, ceilings or roofs
Supported at the floor
Installed so that any rainwater or condensation drains downward into the ground beneath the slab or soil gas retarder membrane.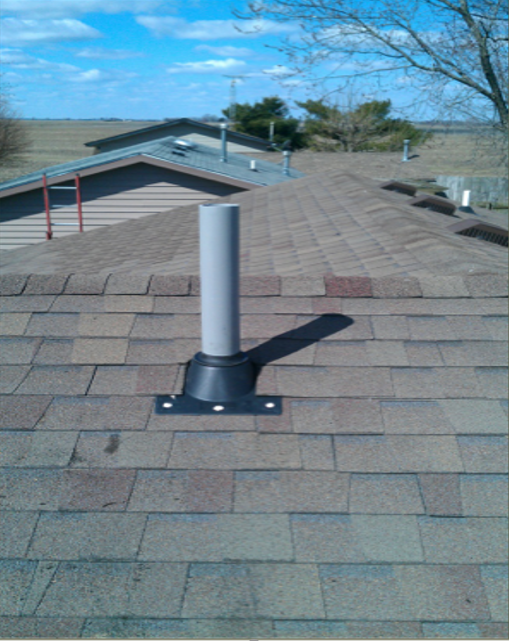 Discharge Points
At least 10' above ground level
At least 10' away from or 2 feet above any opening into conditioned space
At least 10' from any opening into an adjacent building
Above the highest eave of the roof and as close to the ridge line as possible
At least 12" above surface of roof (for installations with roof penetration)
Subfloor Preparation
A layer of gas-permeable material should be placed under all concrete slabs and other floor systems that directly contact the ground and are within the walls of the living spaces of the buildings, to facilitate future installation of a sub-slab depressurization system, if needed.
The gas permeable layer should consist of one of the following:

A uniform layer of clean aggregate, a minimum of 4 inches thick.
The aggregate should consist of material that will pass through a 2 inch sieve and be retained by a ¼ inch sieve;
A uniform layer of sand (native or fill), a minimum of 4 inches thick, overlain by a layer or strips of geo-textile drainage matting designed to allow the lateral flow of soil gases; or
Other materials, systems or floor designs with demonstrated capability to permit depressurization across the entire subfloor area.