A building's foundation can be a significant pathway for radon entry. Four key factors can affect a foundation's contribution to elevated radon levels in home:
Substructure type
Design
Construction details
Materials
There are five common foundation types in the United States:
Pier
Crawl space
Slab
Full basement
Combination
A common misnomer is that radon can only be found in homes with basements. As you may have already surmised, if there is a radon source and a radon transport mechanism and pathway, radon can enter the regardless of the foundation the home sits on. However, if a home has a radon source and is built on a foundation that is below grade, it may be more prone to higher radon levels than homes built above grade. Homes on Pier Foundations have been found to have elevated radon levels caused by entry through plumbing/electrical chases, thermal bypasses or wind vortexes created by hillsides and nearby embankments.
Pier Foundations
Pier foundation homes, as depicted in Figure 3-16, have a well-ventilated substructure and provide no direct pathway for pressure-driven airflow between the soil and the building interior. Consequently, they do not facilitate radon entry from the soil gas pathway. However, conduits for electrical and plumbing can be radon entry routes.
A common assumption is that homes built on pier foundations can not have a radon problem. This assumption is false because although a pier foundation is least likely to contribute to a radon problem, the gas can still enter a home through other sources such as water or building materials or other pathways such as electrical conduit, plumbing chases. Wind patterns can contribute to elevated radon levels in homes on piers if situated on a berm or strategically near a hillside.
Crawl Space Foundations
Crawl spaces often facilitate radon entry, particularly if the crawl space has a dirt floor and block walls. As shown in Figure 3-17, crawl spaces may be ventilated or non-ventilated and may have a concrete floor or vapor barrier. Particularly high radon levels are often found in unventilated crawl spaces open to the soil. However, radon levels in living spaces above crawlspaces can be elevated due to inadequately vented crawlspaces in which the depressurization allows radon to enter the space in abnormally elevated levels without the ability to evacuate
Slab-on-Grade Foundations
Myth
Homes on Slabs Cannot Have a Radon Problem
As with pier foundations, a common myth is that houses constructed on concrete slabs cannot have a radon problem. On the contrary, homes on slabs can also have elevated radon levels and because the occupant is living in the lowest level above the foundation, the health risk can be significantly higher. Slab foundations generally have numerous service or plumbing penetrations through the slab that allow radon to enter. Interior perimeter joints, where the floor slab meets the stem or frost wall, offer a potential entry route, which is especially difficult to seal in finished homes. Numerous openings are likely to exist, depending on the specific home construction. Since there is little potential for a water problem above grade, little attention is paid to seating openings to the soil.
Basement Foundations
Basement construction often results in the creation of a highly permeable zone surrounding a very large below-grade surface area. (Figure 3-19) For this reason, basement foundations are likely to have elevated radon levels. Basement walls may be either block or poured concrete. Numerous potential entry routes exist in basement foundations depending on the materials and design: the top and sides of block walls, form-tie openings in poured walls, slab-wall joints, and service penetrations are typical openings. Where high radon concentrations exist in homes with finished basements, it can be difficult to reach entry routes and mitigation options may be limited.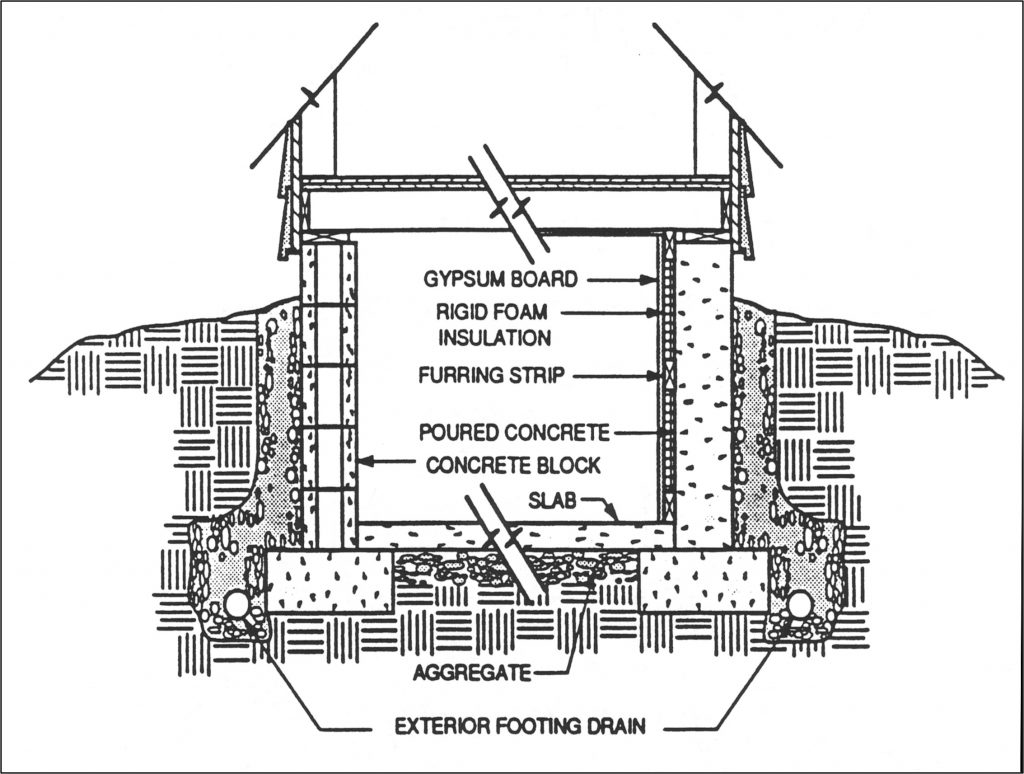 Combination Foundations
Often, homes have multiple foundation types, (Figure 3-20) which can present unique situations. For example, elevated radon concentrations are often associated with basements having adjacent slab-on-grade or unventilated crawl space areas.