Protocols that Help Accuracy in Radon Measurement and Mitigation
Closed Building Conditions
Stabilizing the rate of radon entry into the building and the indoor air environment through Closed Building Conditions [CBC] is crucial. Measuring radon levels under CBC is crucial for achieving necessary equilibriums for various measurement calculations such as Dynamic and Secular Equilibrium.
Dynamic Equilibrium
Dynamic Equilibrium is the time needed for radon and RDP levels to stabilize once the radon entry rate into a building has been altered (i.e. closed up). 12 hours is normally sufficient for achieve dynamic equilibrium.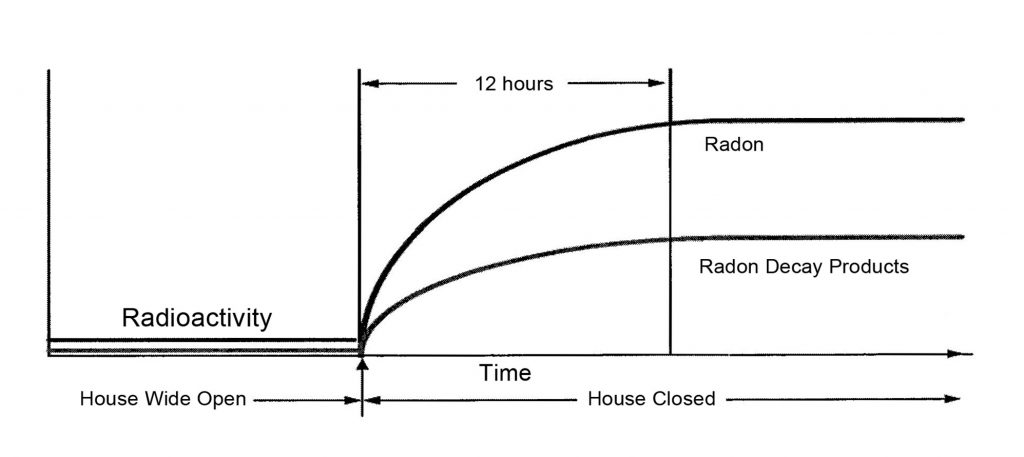 Secular Equilibrium
Radon is at secular equilibrium with its decay products when the radioactive activity of radon and its decay products are the same. Secular Equilibrium is when short-lived RDPs reach the same concentration in pCi/L as the radon forming them.
Every radon atom decays into a Po-218 atom which has a half-life of 3 minutes.
As radon decays, Po-218 increases.
The amount of Po-218 atoms disintegrating will become the same as the amount produced.
The concentration of Po-218 will no longer increase.
It takes 4 hours to reach Secular Equilibrium
Compare and Contrast
| | |
| --- | --- |
| Secular Equilibrium | Dynamic Equilibrium |
| When short-lived RDPs reach the same concentration (pCi/l) as the radon forming them | Time needed for radon and RDP levels to stabilize once the radon entry rate into a building has been altered |
| It takes 4 hours to reach Secular Equilibrium | 12 hours is normally sufficient for dynamic equilibrium to occur in a home |
| | Justifies the need for closed-building conditions |